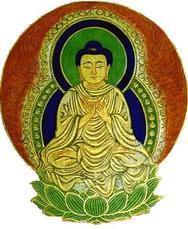 Resources
Who was Buddha?
What is Buddhism?
Where on land & net
When did Pure Land develop?
Why Jodo Shu?
How to be a Buddha
Daily Meditation
More Information

In South Florida
Below is a listing of all known Buddhist resources in South Florida. If you know of temples or groups that should be listed, please send an e-mail to aem@inicom.com. We will also be happy to list other Pure Land sites on the web, but we encourage them to join the webrings as well.
Wat Buddharangsi
Thai Buddhist Temple
15200 SW 240 Street, Miami, Florida 33032
(305) 245-2702
Wat Buddharangsi
---
Zab Sang (Tantricyana) Buddhist Meditation Center
Tibetan Buddhist Center (Kamakagyu)
7215 SW 72 Street, South Miami, Florida 33143
(786) 268-1548
Tantricyana
They have mediation, teachings, Chi Gong, Tai Chi, Yoga and more!
---
Miami Diamond Way Buddhist Center
Tibetan Buddhist Center (Kamakagyu)
205 NW 86 St., North Miami, FL (305) 756-6921
General Meditation on Mondays at 7:45pm. Call for directions.
---
International Zen Institute of Florida
Zen Buddhist Center
Coconut Grove, Florida
(305) 448-8969
email Hank Soan/Mary Poor

---
Vietnamese Pure Land Temple
Pure Land School
South Miami, Florida
(305) 662-8052

---
Another Dharma Center (formerly United Rime Buddhist Society)
Open Buddhist Center
Homestead, Florida 33033
(305) 242-0877
Another Dharma Center

On the Internet
So many places! As a starting point, you should absolutely check out the Jodo Shu home page, the Jodo Shu Research Institute, BuddhaNet, and perhaps BeliefNet's section on Buddhism. A great European site on Pure Land Buddhism is the Amida Trust. A general Buddhist forum open to all is Empty the Cup. Other great launching pads are The Journal of Buddhist Ethics Global Resources Page, and be sure to check out the unique perspective of American Buddha.